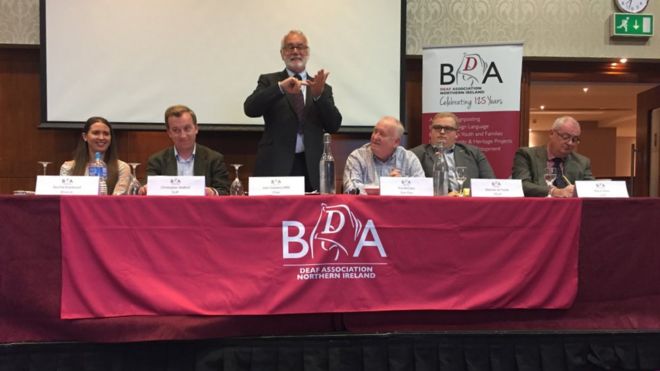 Does this really explain why 71% of deaf in the UK simply did not vote ?
If we read medias they don't contribute to political or local issues either, my deaf club has the answer they organise a day trip out instead. The problem is when deaf do discuss elections and politics, they don't actually talk about those things but about themselves, if you aren't in it, you cannot win it. They just use elections to promote their demands to be a breed apart and have no interest in local or national issues..

The same people who ridiculed ATR for wanting access to Parliamentary TV, go figure ..
"Talk of an Irish language act has been high on Northern Ireland's political agenda in 2017, but it's not the only language that's been up for discussion.
About 300,000 people in Northern Ireland are deaf or have hearing difficulties. And an organisation that supports them is pressing for sign language legislation, making it a top priority in the general election campaign. It is something that the British Deaf Association has demanded since 2001.
On Wednesday night, the organisation held a hustings in Belfast, with dozens of people attending the Question Time style event with the five main Northern Ireland parties. Sign language interpreters were on stage to translate for deaf audience members, and a translator spoke on behalf of deaf people who wanted to ask a question.
Some of the deaf people at the event said that when parties come to their door to canvass, there's no way for them to engage. That's because parties don't have sign language interpreters with them, nor British sign language interpretations of their manifestos. British Deaf Association member Brian Symington told the hustings that sign language was a "language of need".